The "Friend of Childhood" competition's press-conference was held in the National press-club
Jury's chairman and the speaker of the Committee for protection of children's rights, Mr. Zh.Zhukenov told to the audience about the competition, its nominations, jury and first participants.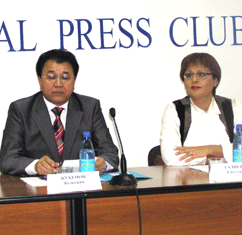 - Children – related to the special part of our society, - he said. – During years of independence in our country has been done great work. The main idea of this competition is to attract public attention to children's problems. We would like to name this award some unique children's "Oscar". We have a lot of enthusiasts who work with children, but, unfortunately, don't get public attention as they deserve yet. Competition's results announcement will take place on the holiday of the Independence day of the Republic of Kazakhstan.
Youth MediaUnion of Kazakhstan director, deputy chairman of the competition's jury Mrs. Svetlana Akhmetzhanovna Galiyeva told to the audience that the symbol of the competition is children's paper toy ship. It is like a child who is skimming along the waves of life. And it is very important for every little human to have adult next to him in hard times who will give his reliable hand for help.
Member of the jury Mr. Erlan Amataevich Kokeev who is distinguished person of the Republic of Kazakhstan, producer of "K7" group and director of the Children's charity fund "Botakanym" also gave a speech on the press-conference.
First participants of the competition attended on the press-conference. They are composer and director of children's chorus of Almaty oblast school Mr. G. G. Tamendarov, deputy chairman of Almaty Union of trade unions Mrs. K. A. Letnikova, who does a lot for children's camps of Almaty and Almaty oblast; actress of Theater for children and young people Mrs. T. N. Tatarskaya, who gave 40 years for acting on children's scene; director of famous Children music-show theater "TANSARI" Mrs. Dina Smailova, student Shakir Islambakiev who is the author of "Planet Demaks" novel…
All the jury member and participants of the competition answered journalist's questions. Jury assured the audience that all the applications are going to be examined with great attention, no one would be left without attention. As the results would appear there are plans to publish colorful book dedicated to all competitors.
We think that there are not going to be any losers in this competition. All its participants deserve great respect and public attention. Well, meanwhile our competition is speeding up. We would like to remind to our site visitor again – be active! Comment competition materials, put marks, our activity would be taken into account by the jury for winners determination.
Source: Site administration, 29.10.2007